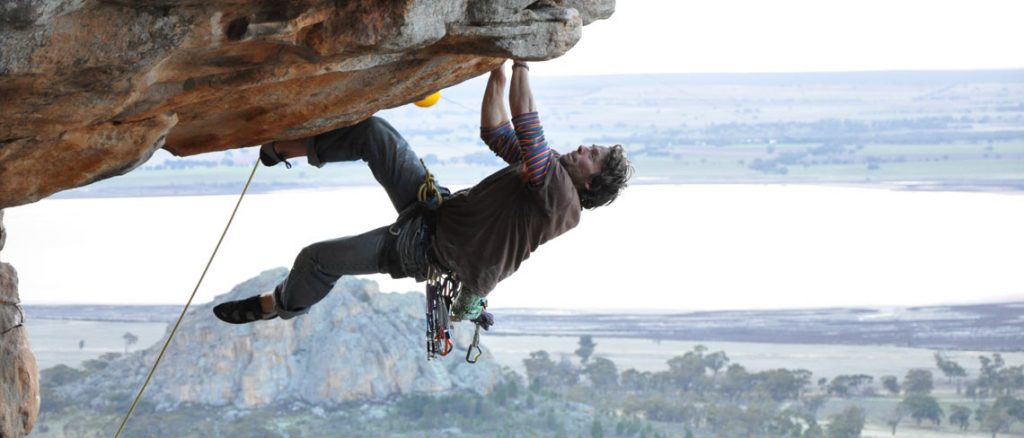 Rock Climbing is a diverse and exhilarating sport and South West Adventures is qualified to offer you an experience across the full spectrum of rock climbing whether in the stunning Grampians or the equally world class Mount Arapiles.

We will take you or your group on your first day out, through to preparing you for an instructor course. So if you are an individual, part of a group or simply passing through the area and want a day out, or even some local knowledge, please contact us and we will reply ASAP.
Rock Climbing is for anyone
Anybody who is keen – individuals, couples, backpackers, friends, school groups, work groups, community groups, special needs groups, sports teams, corporate groups and more. South West Adventures currently does work with all of these types of groups in the Grampians and at Mount Arapiles.
Rock Climbing Degree of Difficulty
Challenge – We will suit the level of challenge to you or your group. We will tailor the day to the needs of you or your group. For example, whether 3 or 4 climbs as part of a school group or many climbs over ½ a day for you and a friend, to full day and multi-day adventures.
Rock Climbing Instruction for Schools & Groups
All instruction is progressive, so when you come back for more adventure you can pick up where you left off. We can take you 'top roping', lead you on single or multi pitch climbs, and/or teach you to lead climb in spectacular locations in the Grampians and at Mt. Arapiles. We will take you out one on one or with a group.
Rock Climbing Locations
In various spectacular locations at Mount Arapiles / Toohan State Park, throughout the Grampians National Park and the Black Range State Park.
Group Size:
Up to 15 participants in a group at any one site. It is possible to have climbing sites near to one another. We offer private guiding also.
Accommodation:
We can arrange this or suggest options whether it is for you or your group of 100! Camping, cabins or a B&B maybe?
Catering:
We can arrange, offer or suggest options
Guides:
All guides know the climbing areas intimately and are fully qualified by ACIA (Australian Climbing Instructors Association) or equivalent.
Costs:
Private guiding single or multi-pitch rock climbing

Half Day:
1 Person $280
2 People $165 each 
3 People $150 each

Full Day: 
1 Person $400
2 People $250 each 
3 People $200 each
Contact us for generous group discounts.
See also information on our Corporate Climbing Adventure Programs
More information on our Outdoor Activities for Schools