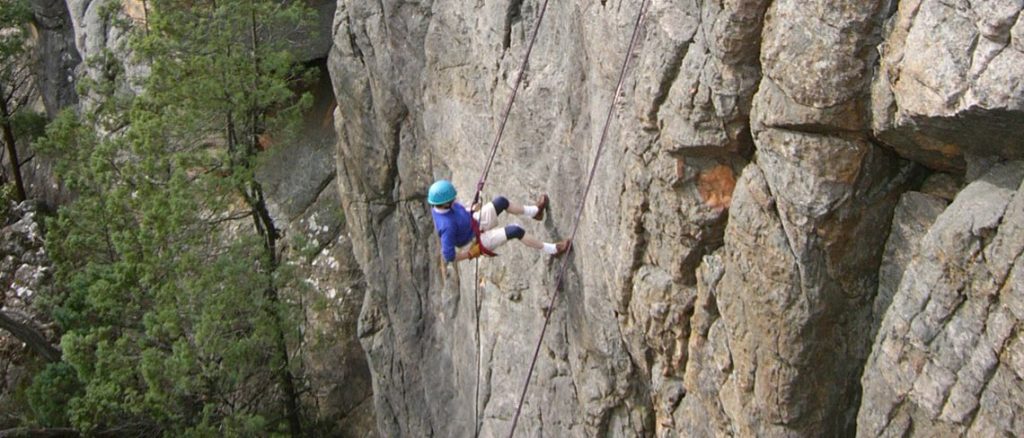 Abseiling is a great introduction to the vertical world. Originally simply a way of getting to the bottom of a climb, now a thrill of its own and accessible to people of all ages. Abseiling is an excellent preliminary activity prior to a rock climbing adventure.
Who Can Abseil
Anybody who is keen – individuals, couples, backpackers, friends, school groups, work groups, community groups, special needs groups, sports teams, corporate groups and more. South West Adventures currently does work with all of these types of groups.
Abseiling School Activities & Programs
We specialise in running abseiling activities for schools from primary to high school. We can run these in Portland, Arapiles and The Grampians. We can tailor any program to the needs of you or your school group.
Learn More About Our Outdoor School Programs
Abseiling Locations
10 minutes from Portland at Cape Bridgewater. In various spectacular locations at Mount Arapiles, throughout the Grampians National Park and the Black Range State Park.
Group Size:
Up to 15 participants in a group at any one site. Larger groups can also be co-ordinated.
Accommodation:
We can arrange this or suggest options whether it is for you or your group of 100!
Catering:
We arrange, offer or suggest options.
Guides:
All guides are fully qualified by ACIA (Australian Climbing Instructors Association) or equivalent.
Costs:
2 hour session:
1 Person $110
2 People $60 each
3 People $45 each

Half Day:
1 Person $185
2 People $125 each
3 People $105 each

Full Day:
1 Person $300
2 People $190 each
3 People $150 each

Contact us for generous group discounts.